Description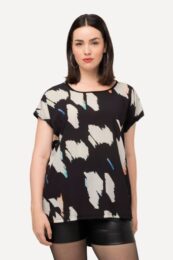 Details: plus size clothing
Ulla Popken Short Sleeve Abstract Satin Blouse
scoop neck
short sleeves
printed satin front panel
stretch-fit jersey back panel

outer layer, 100% viscose

Inner shirt, 95% viscose, 5% elastane

Shop more Ulla Popken (click here)
Style no: 824590100
Further information:
The black and white short sleeve abstract satin front blouse is a stunning piece of apparel that effortlessly combines style and sophistication. Crafted with meticulous attention to detail, this blouse stands out as a versatile and timeless wardrobe essential. The use of high-quality satin fabric gives it a luxurious sheen, creating an elegant and smooth surface that drapes gracefully over the body.
The abstract design on the front of the blouse adds a touch of modern artistry to its overall aesthetic. The black and white color palette enhances the abstract pattern, creating a visually striking contrast that captures attention. The simplicity of the colors ensures that the blouse remains versatile, making it suitable for various occasions, from casual outings to more formal events.
The short sleeves of the blouse contribute to its breezy and comfortable feel, making it an ideal choice for warmer seasons or indoor gatherings. The silhouette is carefully tailored to flatter the figure without compromising on comfort, allowing the wearer to move with ease and confidence.
The blouse features a round neckline that adds a touch of femininity to the overall design. The satin fabric, with its smooth texture, provides a tactile experience that complements the visual appeal of the abstract pattern. The carefully stitched seams and attention to finishing details showcase the craftsmanship that goes into creating this stylish garment.
Whether paired with tailored trousers for a professional look or with jeans for a more casual vibe, this black and white short sleeve abstract satin front blouse effortlessly transitions from day to night. It's a fashion-forward piece that exudes sophistication and is sure to become a wardrobe favorite for those who appreciate the fusion of contemporary design and classic elegance.
Check out our daily videos on facebook.