Description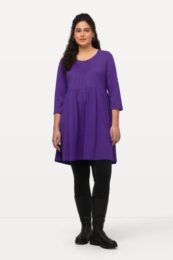 Details: plus size clothing
Ulla Popken Purple Empire Waist Pocket Tunic
scoop neck with pintuck details
3/4 sleeves
ruffled cross seam
side seam pockets
flared hemline with side slits for comfort
pintuck details and a ruffled cross seam give this flared silhouette a playfully feminine look
100% cotton
shop leggings & trousers (click here)
style no: 824513837
Further information:
The deep purple pintuck neckline empire waist pocket tunic is a stunning and versatile garment that effortlessly blends style and functionality. This exquisite piece of clothing showcases a myriad of appealing features that make it a fashion-forward choice for any occasion.
Starting with the colour, the deep purple hue is rich and regal, exuding an air of sophistication and elegance. It's a shade that complements a wide range of skin tones and is ideal for both daytime and evening wear. The deep purple tone sets the stage for a striking visual impression.
The tunic's design is equally captivating. The pintuck neckline adds depth and texture to the garment, creating a visually interesting focal point. This intricate detailing is not only aesthetically pleasing but also serves to create a flattering silhouette by drawing the eye upward.
The empire waistline, cinched just below the bust, defines the figure beautifully, making it a go-to choice for those who want to accentuate their curves while maintaining a comfortable fit. The empire waist design is a classic, timeless choice that has stood the test of time in the world of fashion.
What truly sets this tunic apart are the pockets discreetly integrated into the design. These functional pockets add an element of convenience without compromising style. They provide a handy place to store small essentials like a phone, keys, or lip balm, making it a practical choice for everyday wear.
Check out our daily videos on facebook for style tips, sizing and new arrivals