Description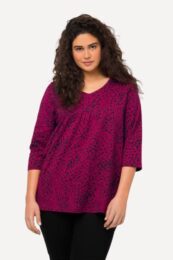 Details: black polka dot top
Ulla Popken Ruby V-Neck Polka Dot Top
v-neck
3/4 sleeves
pair it with our black basic leggings or black skinny jeans (click here to shop)
comfortable a-line cut
Scattered black polka dots add a playful air to this polished look
100% cotton
Style No: 821913540
Further information:
A 3/4 length sleeve cotton top is a versatile and essential piece of clothing that effortlessly combines comfort, style, and practicality. This wardrobe staple is favoured for its adaptability, making it a go-to option for individuals seeking a blend of fashion and comfort.
At its core, a 3/4 length sleeve cotton top is characterized by its sleeve length, which extends to approximately three-quarters of the arm's length. This feature strikes a balance between the coverage provided by long sleeves and the freedom of movement offered by short sleeves, making it an ideal choice for a variety of weather conditions and occasions.
Cotton, a natural and breathable fabric, is the primary material used for these Ulla Popken tops. Cotton's softness, breathability, and moisture-wicking properties contribute to keeping you comfortable throughout the day. It's a gentle, skin-friendly fabric that people often prefer for its comfort and versatility.
The fit of this cotton top is slightly a-line with a small pleat at the v neck to keep the fabric away from the body to suit different body shapes and comfort levels. The versatility of this garment is further accentuated by its compatibility with various bottoms, including jeans, trousers and leggings.
These tops particularly shine during transitional seasons like spring and autumn when weather conditions can be unpredictable. The 3/4 sleeves provide a touch of warmth on cooler days while maintaining breathability for moments when the sun shines.
Michelle has paired her top with the black long gilet from Only Carmakoma.  Check out her video here for some style inspiration.