Description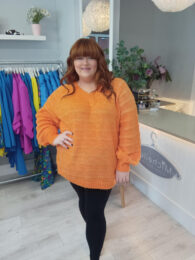 Details: plus size clothing
Only Carmakoma Orange V-neck Jumper
Knitted pullover
V-Neck
Long sleeves
Shop jeans (click here)
45% Recycled Polyester, 37% Polyester, 14% Acrylic, 4% Wool
Style no: 15296175
Further information:
The orange V-neck jumper is a vibrant and versatile piece of clothing that exudes warmth and style. With its striking color and classic design, it's a wardrobe staple that can be both fashionable and functional.
The standout feature of this jumper is its brilliant orange hue. This colour is energetic, lively, and represents a sense of enthusiasm and positivity. It's perfect for adding a pop of color to any outfit, especially during the cooler seasons when earthy tones tend to dominate. The orange shade can brighten up your day and create a cheerful atmosphere wherever you go.
The V-neck design of the jumper adds a touch of sophistication to its overall look. The V-neckline is universally flattering, providing a subtle and elegant way to frame the face. It allows for various layering options, making it suitable for both formal and casual occasions. It's an excellent choice for showcasing a stylish necklace or scarf.
The jumper is not just a fashion statement; it's also incredibly comfortable. Crafted from soft, high-quality materials, it offers a cozy and snug fit. The fabric provides warmth without being bulky, making it ideal for transitional weather. Whether you're headed to a chilly outdoor event or just curling up on the couch with a book, this jumper offers comfort and style in equal measure.
This versatile garment is a fantastic addition to your wardrobe, suitable for a wide range of occasions. You can dress it up with a pair of tailored slacks or a skirt for a professional look, or wear it casually with jeans for a more relaxed vibe. Its flexibility and timeless appeal ensure that it remains a staple piece for years to come.
Check out our daily videos on facebook for style tips, sizing and new arrivals.