Description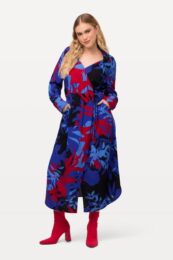 Details: plus size dresses
Ulla Popken Long Sleeve Wrap Look Floral Dress
shirt collar with v-neck
wrap look bodice
long sleeves with cuffs
drawstring tie at waistline
side seam pockets
contrasting colours create a geometric floral pattern, the perfect bold choice to brighten up a winter outfit
100% viscose
shop jackets (click here)
Style no: 820587750
Further information:
The wrap look dress in a red and blue colour clash, made from 100% viscose, is a stunning and daring fashion piece that effortlessly combines style, comfort, and a vibrant color palette. This dress is a striking embodiment of modern fashion, designed to make a bold and memorable statement.
Viscose fabric lends an exquisite drape and luxurious feel to this dress. The natural flow of viscose complements the wrap-style design, ensuring both comfort and a flattering fit. As a breathable and lightweight material, it's perfect for a wide range of weather conditions, making it a versatile choice for various occasions.
The wrap look design adds an alluring and sophisticated element to the dress. It mimics the appearance of a traditional wrap dress with its cinched waist and overlapping layers, creating an illusion of effortless elegance. The cinched waist accentuates your figure while allowing for a customizable fit, ensuring you look and feel your best.
The most striking aspect of this dress is its colour clash. The combination of red and blue creates a dynamic and eye-catching contrast that demands attention. The vibrant red exudes energy and confidence, while the deep blue exudes a sense of depth and sophistication. Together, they create a captivating color clash that sets you apart as a fashion-forward individual.
The dress's versatility is another standout feature. Its unique design and striking colors make it suitable for a wide range of events, from casual gatherings to more formal affairs. Pair it with heels and statement accessories for an elegant evening look or dress it down with trainers for a daytime ensemble.
Check out our daily videos on facebook for style tips, sizing and new arrivals.