Description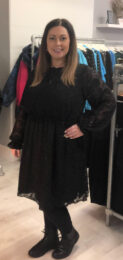 Details: plus size clothing
Evoked Vila Black Short Dress
long sleeves
tie neck details
knee length
beautiful slightly raised floral detail on the fabric
elasticated waist
frill elasticated cuff
suitable for shorter ladies
100% polyester
shop tights (click here)
Style no: 14090542
Further information:
The knee-length black dress is a timeless and sophisticated garment that effortlessly blends style and comfort. Crafted with meticulous attention to detail, this elegant ensemble is designed to enhance the wearer's grace and charm. The dress features a classic silhouette that flatters a variety of body shapes, making it a versatile choice for various occasions.
The use of high-quality polyester fabric adds a touch of modernity to the dress, ensuring a smooth and lustrous finish. Polyester is known for its durability and wrinkle-resistant properties, making this dress an excellent option for those who appreciate both fashion and practicality. The fabric drapes gracefully, creating a sleek and polished look that is perfect for both formal events and semi-casual gatherings.
The long sleeves of the dress add an element of sophistication, providing coverage while maintaining a sense of understated allure. The sleeves are tailored to complement the overall design, allowing for ease of movement without compromising on style. Whether you're attending a cocktail party or a dinner event, the long sleeves add a touch of refinement to the dress, making it a versatile wardrobe staple.
The knee-length hemline strikes the perfect balance between modesty and chic, showcasing just the right amount of leg for a tasteful and alluring appeal. This length allows for easy mobility, making the dress suitable for dancing at a celebration or simply navigating a social event with grace.
The deep, rich black hue of the dress exudes sophistication and timelessness, ensuring that it remains a wardrobe staple for years to come. The colour not only complements a variety of skin tones but also serves as a canvas for accessorizing with statement jewelry or vibrant shoes.
Check out our daily videos on facebook.