Description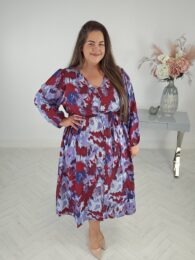 Details: plus size dresses
Evoked Vila Patterned Midi Dress
long sleeves
v neck
full button down front
tie belt
Elastic cuff
80% viscose 20% polymide
shop more dresses (click here)
Style No: 14090361
Further information:
A patterned midi dress is a versatile and fashionable piece of clothing that has become a staple in many women's wardrobes. This type of dress is defined by its length, falling typically between the knee and the ankle, and its eye-catching patterns that add personality and flair to any outfit.
The midi length itself is a key feature of this dress style. It strikes a perfect balance between the elegance of a maxi dress and the practicality of a shorter dress, making it suitable for a wide range of events. This length is particularly versatile as it can be dressed up or down, making it suitable for both casual outings and more formal affairs.
The fabric used for a patterned midi dress can also influence its overall look and feel. Lighter materials can create a flowy and ethereal appearance.
Styling a patterned midi dress is a breeze. For a casual daytime look, pair it with flats or trainers and minimal accessories. To transition into a more formal setting, opt for heels or ankle boots, and accessorize with statement jewelry and a clutch bag.
With its unique patterns, flattering length, and diverse silhouettes, this type of dress can be adapted to suit a wide range of occasions, making it a go-to choice for women who want to make a statement with their clothing while maintaining comfort and elegance.
The colours in this dress are so vibrant and eye catching.  Michelle has it paired beautifully with nude heels for the elegant dressy look making it suitable for any occasion.
Check out our daily videos on facebook for style tips and new arrivals.