Description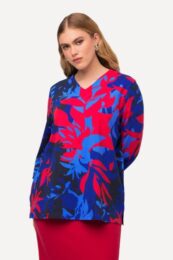 Details: plus size tops for women
Ulla Popken 3/4 Sleeve V-Neck Floral Top
OEKO-TEX Made in Green
v-neck goblet collar
3/4 sleeves
Contrasting colours clash in this bright pick, perfect as a statement piece or layered under a jacket for a more toned-down look

95% cotton, 5% elastane

shop leggings (click here)
Style No: 820579750
Further information:
The 3/4 length sleeve V-neck red and blue colour clash cotton top is a bold and striking addition to any wardrobe, perfect for making a statement with its vibrant and contrasting colours. This unique piece seamlessly merges style and comfort, creating a captivating look that is both eye-catching and comfortable.
Crafted from soft and breathable cotton fabric, this top ensures comfort throughout the day while maintaining a sense of casual elegance. The 3/4 length sleeves offer just the right amount of coverage, making it suitable for various seasons and occasions. Whether you're heading to work, a casual outing with friends, or a weekend adventure, this top has you covered.
The most distinctive feature of this top is its dynamic colour clash. The combination of red and blue creates a bold and visually appealing contrast that immediately captures attention. The vibrant red hue adds a touch of energy and warmth, while the deep blue provides a sense of depth and sophistication. Together, these colors create a harmonious clash that makes a unique and memorable fashion statement.
The V-neckline of the top adds a flattering touch to the design, drawing the eye towards the neck and collarbone. It is a classic and universally flattering neckline that works well with various body types, adding a touch of femininity and elegance to the overall look.
This top pairs effortlessly with a variety of bottoms, including jeans, shorts, or skirts, allowing you to create different looks to suit your mood and the occasion. The color clash makes it a versatile choice for both casual and semi-formal events, allowing you to stand out and express your individual style.
Its combination of contrasting colors, soft cotton fabric, and classic design elements makes it a versatile addition to your wardrobe. Whether you're looking to make a bold fashion statement or simply add a pop of color to your everyday outfits, this top is a vibrant and chic choice that will elevate your fashion game.
Check out our daily videos on facebook for style tips, sizing and style tips.