Description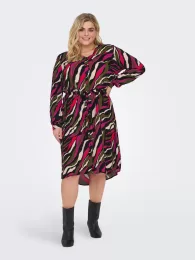 Details: plus size clothing
Only Carmakoma Midi Dress
V-Neck
Long sleeves
Tie waist
Regular Fit
100% LENZING™ ECOVERO™ Viscose
Shop tights (click here)
Style no: 15309716
Further information:
The colourful midi V-neck shirt dress with a tie belt is a vibrant and playful ensemble that seamlessly blends style and comfort. This dress is a celebration of hues and patterns, bringing a burst of energy to any wardrobe. The midi length strikes a perfect balance, offering versatility that can transition effortlessly from casual outings to semi-formal events.
The V-neckline adds a touch of allure, framing the collarbone elegantly while maintaining a chic and contemporary aesthetic. The dress exudes a relaxed yet polished vibe, making it an ideal choice for a variety of occasions. The vibrant colors incorporated into the fabric create a lively and dynamic visual appeal, capturing attention with a lively spirit.
The shirt dress silhouette brings a sense of laid-back sophistication, combining the comfort of a classic shirt with the feminine charm of a dress. The button-down front adds a casual element, allowing for customizable styling options—whether worn fully buttoned for a polished look or unbuttoned for a more casual and carefree vibe.
The inclusion of a tie belt not only accentuates the waistline but also provides a flattering silhouette that complements various body shapes. The belt can be knotted in a bow or a simple knot, adding a charming detail to the ensemble. Its optional nature allows for versatility in styling, enabling the wearer to adapt the dress to different occasions and moods.
The beauty of this dress lies in its ability to radiate positivity and joy through its vivid color palette and playful design. It's a wardrobe statement that embodies confidence and a zest for life. Whether attending a daytime event, brunch, or a summer soiree, the colorful midi V-neck shirt dress with a tie belt promises to be a go-to piece for those who want to express their vibrant personality through fashion.
Check out our daily videos on facebook.