Description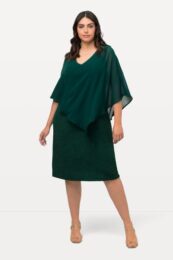 Details: plus size formal dresses
Ulla Popken Glittering Asymmetric Cape Dress
v-neck
wide chiffon capelet with asymmetric hemline
sleeveless jersey dress
100% polyester
dark green
Shop shape wear (click here)
Style No: 824312758
Further information:
A dark green glittering asymmetric cape knee-length dress is a striking ensemble that seamlessly merges modern sophistication with a touch of glamour. The rich, deep shade of green exudes an aura of opulence, while the glimmering finish adds a captivating allure, making it a statement piece for any special occasion.
The knee-length cut of the dress strikes a perfect balance between elegance and contemporary style, offering a versatile option suitable for a range of events.
The incorporation of a shimmering glitter effect across the fabric adds a touch of luxury and radiance to the overall ensemble. The subtle interplay of light and shadow creates a mesmerizing effect, ensuring that the wearer will effortlessly capture attention and exude an aura of refined glamour and allure. The careful application of the glitter detailing reflects expert craftsmanship and attention to detail, highlighting the dress's exquisite quality.
The addition of a graceful cape detail further enhances the dress's allure, draping elegantly over the shoulders and cascading down the back. This asymmetrical cape not only adds a touch of drama but also contributes to a sense of movement and fluidity, creating a dynamic visual effect that is both captivating and elegant.
The dark green glittering asymmetric cape knee-length dress is an embodiment of contemporary elegance, with its unique design elements and luxurious detailing. It is the perfect choice for those seeking a blend of modernity and sophistication, making a bold yet refined fashion statement. Whether for a formal evening event or a special celebration, this dress is poised to leave a lasting impression, symbolizing both confidence and grace.
Check out our daily videos on facebook for style tips, new arrivals and sizing guides with our helpful team.