Description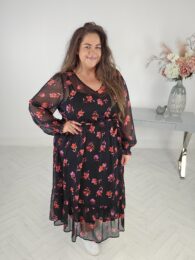 Details: plus size dresses
Only Carmakoma Floral Midi Dress
V-Neck
Long sleeves
Hemline falls at midi length, below knee
Tie string detail
Regular Fit
Shop shapewear (click here)
51% Recycled Polyester, 49% Polyester
Style No: 15308145
Further information:
A chic and alluring black and floral midi dress, with its flattering V-neckline and an artfully tied waist, epitomizes a fusion of contemporary elegance and timeless grace. The dress, draped in a luxurious black fabric, exudes an air of sophisticated allure that is enhanced by the subtle infusion of vibrant floral patterns. This fusion of elements gives rise to a garment that seamlessly marries femininity with a touch of modern sensibility.
The enchanting V-neckline of the dress frames the décolletage with a subtle hint of allure, gently drawing the eye toward the intricately detailed floral patterns. The floral motifs, delicately breathes life into the dark canvas of the dress. The intricate design of the florals evokes a sense of delicacy and refinement, highlighting the craftsmanship involved in its creation.
Emphasizing the waist, a tastefully designed tie adds a touch of playful sophistication, cinching the fabric to accentuate the natural curves of the body. The adjustable tie not only enhances the silhouette but also allows for a customizable fit, making the dress effortlessly flattering for various body shapes. The careful placement of the tie lends a subtle element of dimension, emphasizing the waistline while allowing the fabric to cascade gracefully into a midi-length skirt.
The skirt's length gracefully skims the knees, offering a perfect balance between modesty and allure. As one moves, the dress flows with a gentle sway, creating an ethereal movement that accentuates the wearer's poise and grace. The subtle play between the dark backdrop and the vivacious floral patterns evokes a sense of mystery and vitality, symbolizing the wearer's inherent strength and vibrant spirit.
In its entirety, the black and floral midi dress with a V-neckline and tie waist stands as a testament to the harmonious fusion of contemporary aesthetics and timeless femininity, celebrating the beauty of contrasts and the allure of understated elegance.
Check out our daily videos on facebook for style tips, sizing guides and new arrivals.