Description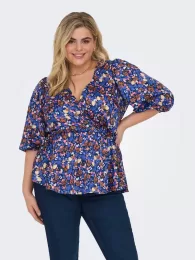 Details: plus size clothing
Only Carmakoma Blue Floral Wrap Top
V-Neck
3/4 sleeves
Regular Fit
Peplum
Wrap effect
100% Recycled Polyester
Shop jeans (click here)
Style no: 15309308
Further information:
The blue wrap top is a stunning fusion of femininity and sophistication. This garment effortlessly marries a vibrant color palette with thoughtful design elements, creating a piece that stands out in both style and versatility.
The deep blue hue serves as the canvas for a delightful floral pattern that adorns the fabric. The floral motif, a meticulous combination of blossoms and leaves, injects a sense of natural elegance into the design. The varying shades of blue, along with hints of complementary colours, create a visually striking and harmonious composition.
The v-neckline of the top adds a touch of allure, framing the neckline beautifully. It offers a flattering and open neckline that enhances the overall femininity of the garment. The wrap style further accentuates this effect, allowing the fabric to drape gracefully across the body, creating a silhouette that flatters various body shapes.
The 3/4 sleeves provide a perfect balance between coverage and exposure. This sleeve length is not only practical for transitioning between seasons but also adds a touch of sophistication to the top. The sleeves are tailored with precision, ensuring a comfortable fit and allowing the wearer to showcase accessories like bracelets or watches.
The standout feature of this wrap top is the peplum hem. The peplum, a flared and gathered fabric that extends from the waist, introduces a playful and romantic element to the design. It not only defines the waistline but also creates a subtle, flirty flare that adds movement and visual interest to the overall silhouette. The peplum hem is a charming detail that sets this top apart, making it a versatile choice for various occasions.
Whether paired with tailored trousers for a polished office look or with jeans for a casual outing, this v-neck floral blue wrap top is a wardrobe essential for those who appreciate timeless elegance with a contemporary twist.
Check out our daily videos on facebook.