Description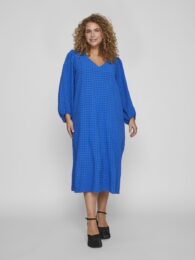 Details:blue dress
Evoked Blue Dress
3/4-sleeve midi dress
Tie waist with removable belt
V-neck
Textured fabric
Elastic sleeve endings
Regular fit
96% Polyester, 4% Elastane
Style No: 14089221
Further Information:
A textured blue long sleeve midi dress is a fashion piece that embodies both elegance and comfort, making it a versatile addition to any wardrobe. This dress combines a rich blue hue with a tactile surface, resulting in a garment that is both visually appealing and pleasing to the touch.
The texture of this midi dress adds depth and character to its design. The texture could be subtle, creating a gentle play of light and shadow on the dress's surface, or it could be more pronounced, with intricate patterns or raised elements that create visual interest.
The long sleeves of the dress provide both coverage and warmth, making it suitable for a range of occasions and seasons. Long sleeves can also add an element of sophistication to the overall look, making this dress versatile enough to transition from daytime events to evening outings.  The optional tie belt gives you choices to suit your comfort.
The midi length of the dress typically falls below the knee, creating a timeless and flattering silhouette. It strikes a balance between formal and casual, making it suitable for a variety of settings. Whether you're attending a cocktail party, a wedding, or a casual dinner, this dress can adapt to the occasion with the right accessories and styling.
Overall, a textured blue long sleeve midi dress is a captivating and versatile piece of clothing that combines the soothing qualities of blue with the tactile appeal of texture. Its color and texture choices allow for creative expression and the opportunity to make a lasting impression. With the right accessories and styling, it can be a go-to choice for making a stylish statement while maintaining comfort and confidence.