Description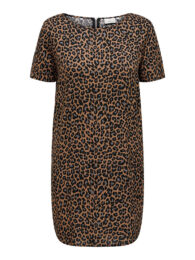 Details: animal print tunic dress
Only Carmakoma Leopard Print Tunic Dress
Round neck
100% Sustainable viscose
Over size
Back zip closure
Rounded bottom
Short sleeve
100% Viscose LENZING-ECOVERO
Item number: 15304550
Further information:
A leopard print tunic dress is a striking and versatile fashion piece that combines the bold allure of leopard print with the comfortable and relaxed silhouette of a tunic dress.
The tunic dress, at its core, is designed for ease and comfort. It typically features a loose, flowy fit that skims the body without clinging, making it an ideal choice for casual and laid-back occasions. This relaxed fit is often characterized by a straight or slightly A-line silhouette, allowing for unrestricted movement and breathability.
What sets the leopard print tunic dress apart is its captivating print. The dress showcases the iconic leopard print pattern, known for its dark rosettes and spots on a lighter background. This bold pattern adds an element of excitement and daring to the otherwise easygoing tunic dress design. The juxtaposition of the relaxed fit with the wild print creates a striking contrast that captures attention and exudes confidence.
The length of the tunic dress usually falls above the knee, making it a versatile choice for various occasions. It can be paired with sandals or trainers for a casual daytime look or dressed up with heels and accessories for a night out.
Wearing a leopard print tunic dress conveys a sense of self-assuredness and an adventurous spirit. It's a piece of clothing that allows the wearer to express their bold and confident personality while staying comfortable and relaxed. The striking leopard print adds a touch of wildness to the simplicity of the tunic dress, creating a captivating fashion statement. It's the perfect choice for those who appreciate a blend of comfort and style and want to make a bold yet effortless statement in their fashion choices.
Check out our daily videos on facebook for style tips and new arrivals (click here)