Description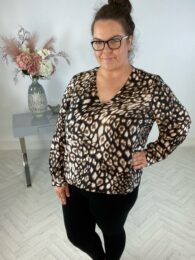 Details: plus size clothing
Vero Moda Animal Print Blouse
long sleeves
button cuffs
v-neck
80% viscose 20% nylon
Shop curvy trousers (click here)
Style no: 10297972
Further information:
The animal print v-neck blouse with long sleeves is a statement piece that effortlessly combines bold style with luxurious comfort. Crafted with a meticulous eye for design, this blouse showcases an alluring animal print pattern that adds a touch of wild sophistication to any wardrobe.
The v-neckline of the blouse is a key feature, creating a flattering and open neckline that enhances the overall allure of the garment. It adds a hint of sensuality while maintaining a tasteful and elegant appearance. The v-neck design allows for versatility in styling, making it suitable for both casual and more formal settings.
The long sleeves contribute to the blouse's versatility, providing coverage and warmth. The sleeves are tailored with precision, ensuring a comfortable fit that complements the overall silhouette. This feature makes the blouse suitable for year-round wear, allowing the wearer to transition seamlessly between seasons with a touch of exotic flair.
The animal print, characterized by its distinctive and eye-catching pattern, introduces a sense of playfulness and personality to the blouse. The print, inspired by the natural beauty of wildlife, is a tasteful interpretation that adds a touch of glamour without being overpowering. The earthy tones and organic shapes create a harmonious visual composition that is both striking and sophisticated.
Constructed from 80% viscose, the blouse offers a luxurious feel against the skin. Viscose, a semi-synthetic fiber known for its softness and breathability, ensures that the blouse drapes gracefully, providing comfort throughout the day. The fabric's natural sheen adds a touch of refinement to the overall aesthetic, enhancing the blouse's appeal.
The blend of viscose also contributes to the blouse's durability and ease of care, making it a practical choice for everyday wear. The fabric's lightweight nature allows for easy movement, ensuring that the wearer feels both comfortable and stylish.
Whether paired with tailored trousers for a polished office look or with jeans for a chic and casual ensemble, this animal print v-neck blouse is a fashion-forward choice for those who want to make a bold statement while embracing the comfort of luxurious fabrics.
Check out our daily videos on facebook.