Description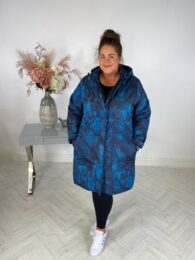 Details: plus size clothing
Ulla Popken Long Triple-Function Ink Print Coat

water repellent, windproof, breathable
practical two-way zip with snap button placket
warm lined pockets with zips
side slits for comfort
100% polyester
shop more clothing options (click here)
Can't find your size? give the girls a call
Style no: 821895750
Further information:
The "Long Triple-Function Ink Print Water Repellent Lightly Padded Coat" is a versatile and innovative outerwear garment engineered to offer exceptional protection and comfort in a variety of environments. Crafted from a high-quality, durable fabric, this coat is meticulously designed to withstand the challenges of daily wear, making it an ideal choice for individuals seeking both style and functionality.
The advanced water-repellent properties of the fabric guarantee exceptional resistance to moisture and light rain, keeping the wearer dry and comfortable even in inclement weather conditions. This functionality is essential for individuals frequently exposed to outdoor activities or unpredictable climates, providing a reliable shield against dampness and maintaining a polished appearance.
Additionally, the coat boasts a lightly padded interior, enhancing its insulation capabilities without compromising its sleek and streamlined silhouette. The strategically incorporated padding offers an optimal balance between warmth and flexibility, ensuring that the wearer remains cozy without feeling overly encumbered by excessive bulkiness.
Furthermore, the coat's extended length provides added coverage, extending below the waist to offer increased protection from cold drafts and chilly temperatures. Its adjustable hood and cuffs enable users to tailor the fit according to their preferences, guaranteeing a snug and personalized experience.
Overall, the "Long Triple-Function Ink Print Water Repellent Lightly Padded Coat" is a sophisticated and practical outerwear option, seamlessly blending style and functionality to meet the demands of modern lifestyles and professional environments.
Check out our daily videos on facebook for style tips, sizing guides and new arrivals.