Description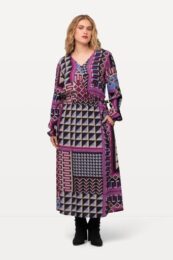 Details: plus size clothing
Ulla Popken Geometric Patch Print Long Sleeve V-Neck Dress
v-neck wrap look bodice
long sleeves with elastic cuffs
drawstring waist with tie
side seam pockets
100% viscose
shop shape wear (click here)
Style No: 821176830
Further information:
The Geometric Patch Print Long Sleeve V-Neck Dress is a captivating blend of contemporary design and classic elegance, designed to accentuate the feminine form with its flattering silhouette. This alluring dress seamlessly combines modern trends with timeless sophistication, making it a versatile choice for both casual and formal occasions.
Crafted from a luxurious blend of high-quality fabrics, the dress exudes a soft and lustrous texture that gracefully drapes over the body, offering a comfortable and luxurious wearing experience. The V-neckline adds a touch of allure, creating a subtle focal point that draws attention to the collarbones and neckline, accentuating the wearer's natural beauty.
The captivating geometric patch print is a symphony of contrasting shapes and colors, intricately woven to create an eye-catching visual display that embodies a fusion of contemporary artistry and traditional craftsmanship. The intricate patterns play with various geometric shapes, including circles, squares, and triangles, seamlessly blending vibrant hues.
With its long sleeves, the dress provides an elegant and modest appeal, perfect for cooler evenings or transitioning between seasons. The carefully tailored sleeves feature a subtle tapering that delicately hugs the arms, highlighting the graceful contours and lending a refined touch to the overall aesthetic.
Its length design strikes a balance between modesty and modernity, ensuring a tasteful and sophisticated appearance suitable for a range of settings. The dress's tailored waistline subtly cinches the waist, creating a flattering hourglass silhouette that enhances the natural curves of the body, exuding confidence and grace with every movement.
Check out our daily videos on facebook for style tips, sizing  and new arrivals.