Description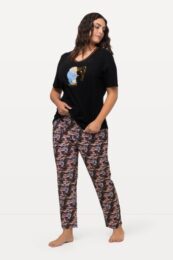 Details: pajamas for women
Ulla Popken Eco Cotton Jungle Print Pajama Set
organic cotton
100% cotton
solid top with contrast piping V-neck
front print
short sleeves
allover print elastic waist bottoms
a spotted leopard face and the word EXPLORER is printed on the solid top
Contrast piping V-neck, front print, and short sleeves
Allover jungle print elastic waist bottoms
Further information:
One of the primary benefits of 100% cotton pajamas is the unparalleled comfort they offer. Cotton is renowned for its soft and gentle feel against the skin, making it ideal for sleepwear. When you slip into cotton pajamas, you'll experience a luxurious sensation of comfort that promotes relaxation and restfulness.
Moreover, cotton is highly breathable, which means it allows air to circulate freely through the fabric. This natural breathability is especially good during sleep, as it helps regulate your body temperature. Cotton wicks moisture away from your body, preventing you from feeling sweaty or overheated. This  ensures that you stay cool and comfortable throughout the night, minimizing sleep disruptions caused by discomfort.
Another significant advantage of 100% cotton pajamas is their hypoallergenic nature. Cotton is a natural, hypoallergenic fiber, which means it's less likely to cause skin irritation or allergic reactions compared to synthetic materials. For individuals with sensitive skin or allergies, cotton pajamas can provide relief and ensure a peaceful night's sleep without the risk of skin irritation.
Cotton pajamas are known for their durability and longevity. They can withstand frequent washing without losing their shape or softness. This durability ensures that your cotton pajamas will serve you well for an extended period, making them a cost-effective choice in the long run.
Cotton is a natural, renewable resource, making it an environmentally friendly choice for pajamas. It is biodegradable and does not contribute to environmental pollution like some synthetic fabrics. By opting for 100% cotton sleepwear, you can align your choices with eco-conscious values and reduce your environmental footprint.
Check out Michelle's Curvy Boutique on Facebook daily (click here)