Description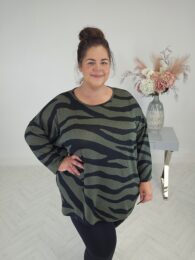 Details:
Only Curvy Printed Jumper
3/4 Sleeves
Soft knit
O-Neck
95% Polyester, 5% Elastane
Style No: 15244420
These jumpers are a staple in everyone's closet.  We always have a variety of them in different styles and colours.  The sleeves are 3/4 length and the longer length of the jumper gives you extra coverage around the tummy area.  You could pair this jumper with jeans, leggings or wet look leggings depending on your style.