Description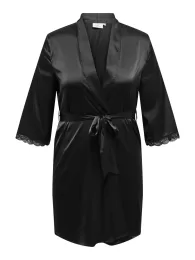 Details: satin night gown
Only Carmakoma Satin Kimono
Split neck
3/4 sleeves
Belt accentuating the waist
Shop the matching nightdress (click here)
95% Polyester, 5% Elastane
Style no: 15307903
Further information:
A short black satin nightgown is the epitome of sensual and luxurious sleepwear. This intimate apparel item is designed to provide both comfort and allure, making it a favorite among those who appreciate elegance even in the most private moments.
The first thing that strikes you about a short black satin nightgown is its exquisite material. Satin is known for its smooth, silky texture that feels gentle against the skin. Its glossy finish adds a touch of opulence, making it the perfect choice for nighttime attire. The deep black color enhances the satin's natural sheen, creating an alluring contrast that catches the eye.
The length of the nightgown is intentionally short, typically ending around mid-thigh. This shorter length not only adds to its seductive appeal but also allows for ease of movement during sleep. The satin gently drapes over the body, caressing it with a sensuous touch while providing an airy, breathable feel that ensures a comfortable night's rest.
The design of a short black satin nightgown often includes delicate details that elevate its allure. It may feature lace accents, intricate embroidery, or satin ribbon bows along the neckline or hemline, adding a touch of femininity and sophistication.
Wearing a short black satin nightgown can make you feel like a movie star from a bygone era. It exudes a timeless glamour that's both classic and modern, making it an excellent choice for special occasions or simply to elevate your nightly routine. The inherent sensuality of the garment can make you feel confident and alluring, enhancing your self-esteem and creating an intimate atmosphere.
Pairing a short black satin nightgown with a matching satin nightdress can enhance the overall aesthetic and provide an added layer of comfort. Additionally, accessorizing with a luxurious silk eye mask or satin slippers can complete the indulgent experience of wearing such a delightful piece of sleepwear.
Check out our daily facebook videos (click here)