Description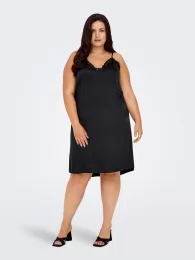 Details: silky night dress
Only Carmakoma Satin Lace Nightdress
V-Neck
Sleeveless
Feminine lace detail
Regular Fit
95% Polyester, 5% Elastane
Style No: 15307902
Further Information:
A black satin nightdress exudes an aura of timeless elegance and sensuality. This luxurious garment is a testament to the art of combining comfort with allure, making it a staple in many women's sleepwear collections.
Crafted from sumptuous black satin, this nightdress is a true embodiment of sophistication. Satin is a weave characterized by its smooth, glossy surface and soft, silky feel against the skin. It drapes gracefully, enhancing the wearer's natural curves and offering a sensation of sheer indulgence.
The classic design of a black satin nightdress often features spaghetti straps, delicately tracing the shoulders and adding a touch of femininity. The back of the nightdress may mirror the front or showcase a low-cut, seductive backline.
One of the most enchanting aspects of a black satin nightdress is its versatility in terms of length. It can be short, skimming the upper thighs for a playful and flirtatious look, or extend to ankle-length for an elegant, more modest appearance.
Comfort is paramount in sleepwear, and satin delivers on this front as well. Its smooth surface is gentle on the skin, and the breathable nature of the fabric ensures a comfortable night's sleep, even in warmer weather. The lightweight quality of satin makes it ideal for lounging or relaxing at home, providing an added element of luxury to your downtime.
A black satin nightdress is a garment that seamlessly combines the sensuousness of satin with timeless design. It epitomizes elegance and sophistication, offering comfort and allure in equal measure. Whether you're slipping into it for a special evening or simply enjoying the indulgence of satin as you unwind, this nightdress is a symbol of luxury and refinement in the realm of sleepwear.
Check out our daily live Facebook videos (click here)