Description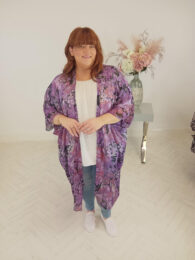 Details: kimonos for women
Only Carmakoma Paisley Flower Kimono
knee length
fully open front
bat wing sleeve
Style No: 15302056
Further information:
A ladies fashion kimono is a modern reinterpretation of the traditional Japanese kimono, blending the elegance of the traditional garment with contemporary style and versatility. This fashion-forward piece has gained popularity worldwide.
A kimono often deviates from the traditional kimono's long and straight-line silhouette. It may feature various lengths, from ankle-length to mid-thigh, and can come in different cuts, such as wrap-style, robe-style, or even kimono-inspired jackets. These variations allow for greater adaptability to various occasions and personal preferences.
Fashion kimonos often feature contemporary and eclectic patterns, prints, and colors. They may incorporate floral designs, geometric patterns, abstract art, or even pop culture references. These bold and vibrant motifs give fashion kimonos a fresh, modern twist.
Unlike traditional kimonos with long, flowing sleeves, fashion kimonos may have various sleeve lengths, including short sleeves, three-quarter sleeves, or even sleeveless options. This adaptability makes them suitable for different seasons and settings.
The kimono may have an open front or simpler closures, such as buttons, ties, or belts, making them more accessible and easier to wear.
Kimonos are versatile and can be worn for various occasions. They make stylish additions to casual outfits, beach cover-ups, or can be dressed up for evening events, festivals, or parties.
Its blend of modern design, diverse materials, and adaptability to various occasions has made it a popular choice for those seeking a unique and fashionable wardrobe piece. Fashion kimonos celebrate the beauty and cultural inspiration of the traditional garment while offering a fresh and accessible approach to incorporating it into modern fashion.
Why not browse our website to shop the look or give the girls a call and they can offer their guidance in customising your outfit.