Description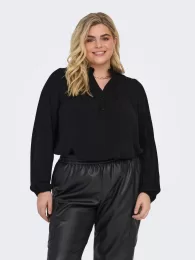 Details: plus size clothing
Only Carmakoma Lace Detail Shirt
China Collar
Long sleeves
Half button fastening
Lace detail
Regular Fit
Shop wet look leggings (click here)
100% Polyester
Style no: 15309154
Further information:
The ladies' black China collar shirt is an epitome of timeless elegance and sophistication. Crafted with meticulous attention to detail, this shirt effortlessly combines classic design with contemporary style. The deep black hue exudes a sense of mystery and refinement, making it a versatile wardrobe staple suitable for various occasions.
The China collar, also known as a Mandarin collar, adds a touch of Eastern-inspired flair to the shirt. This collar style is characterized by its short, upright stand that frames the neck gracefully. It brings a hint of cultural richness to the overall design, making it stand out from conventional collared shirts. The absence of a traditional pointed collar lends a clean and modern aesthetic, perfect for those who appreciate a minimalist yet refined look.
The long sleeves of the shirt further contribute to its elegance. The sleeves are tailored to perfection, providing a sleek and slender silhouette that flatters the arms. This design choice adds a sense of formality, making the shirt suitable for professional settings or more formal events.
The buttons on the shirt are not just functional but also contribute to the overall aesthetic. Carefully chosen to complement the black fabric, the buttons add a subtle element of contrast. Whether buttoned up for a polished look or left partially undone for a more relaxed vibe, the versatility of this shirt allows for various styling options.
The fabric itself is chosen for its quality and comfort. A soft and breathable material ensures that the shirt feels as good as it looks, providing all-day comfort for the wearer. The attention to detail in both design and craftsmanship makes this ladies' black China collar shirt a wardrobe essential for those who appreciate the fusion of classic and contemporary fashion. It's a timeless piece that transcends trends, destined to be a favourite for years to come.
Check out our daily videos on facebook.