Description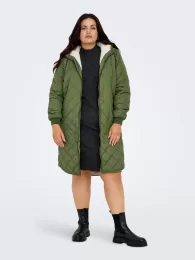 Details: green padded coat
Only Carmakoma Green Quilted Coat
Hood with string regulation
Ribbed cuffs
Zip fastening
Side pocket
Long Padded with premium synthetic padding
Drawstring at hem
100% Nylon
shop more coats (click here)
Style No: 15295516
Further information:
A quilted ladies' coat is a stylish and practical outerwear option that combines warmth, comfort, and fashion in one. These coats are characterized by their unique quilted design, which not only adds a touch of texture and visual interest but also serves the functional purpose of trapping heat, making them ideal for colder weather.
The defining feature of a quilted ladies' coat is its quilted stitching pattern, which creates a series of small, interconnected pockets or "quilted squares" filled with insulation material. This construction method provides excellent insulation, making the coat exceptionally warm without adding excessive bulk. The insulation is typically made of down or synthetic materials, both of which offer superior heat retention.
Quilted ladies' coats come in various styles, lengths, and colors, longer quilted coats provide additional coverage and are suitable for formal or semi-formal occasions.
These coats often feature a range of practical elements. Many quilted ladies' coats come with a detachable or adjustable hood, offering protection from rain, snow, or cold winds. Additionally, they may have zippered or buttoned front closures for added insulation, as well as side pockets for keeping hands warm and storing small essentials.
Colour choices for quilted ladies' coats are diverse, ranging from classic neutrals like black, navy, and beige to more vibrant options like burgundy or forest green.
Its quilted design not only provides excellent warmth and insulation but also adds a stylish and contemporary element to your wardrobe. Whether you're heading out for a brisk winter walk, a social gathering, or a formal event, a quilted ladies' coat is a versatile and fashionable choice that keeps you cozy and chic in cold weather.
Check out our daily facebook videos (click here)