Description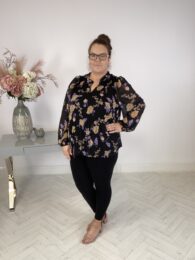 Details: only carmakoma
Only Carmakoma Black Floral Top
Plissé top
O-Neck
Long sleeves
Floral print
Button neck opening
Regular Fit
100% Polyester
Style No: 15302015
Further Information:
The black floral plisse blouse is a blend of delicate femininity and understated elegance. This garment has the timeless appeal of florals with the contemporary texture of plisse fabric, resulting in a versatile piece that radiates charm and sophistication. The harmonious interplay of colors in this blouse and textures adds depth and visual interest to the overall design.
The plisse fabric itself is a masterpiece of artistry and craftsmanship. Its finely pleated texture imparts a subtle sense of movement, adding an element of dynamism to the blouse. The play of light and shadow across the plisse folds creates a mesmerizing visual effect that catches the eye from every angle, elevating the blouse from a mere garment to a wearable work of art.
The silhouette of the blouse is equally enchanting. The billowy sleeves and gentle gathers at the neckline evoke a sense of romanticism, while the relaxed fit ensures both comfort and sophistication. The blouse's versatility is one of its defining attributes; it effortlessly transitions from day to night, exuding casual elegance when paired with jeans or elevated charm when combined with tailored trousers or a skirt.
The black floral plisse blouse is a testament to the seamless fusion of classic and contemporary elements. Its floral pattern and plisse texture intertwine to create a piece that speaks of timeless beauty and modern allure. Whether worn for a daytime event or an evening event, this blouse is an embodiment of refined style, offering a captivating blend of sophistication, artistry, and effortless grace.
We would suggest wearing this top with our beautiful black curvy trousers/only black curvy jeans/wet look leggings together with our black faux leather biker jacket.