Description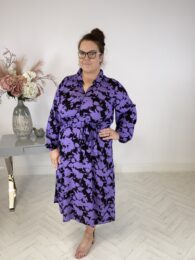 Details: vila
Evoked Vila Purple Floral Shirt Dress
button down front
optional tie waist
long sleeves
button cuffs
calf length
 100% Viscose LENZING™ECOVERO™
Style No: 14092950
Further Information:
The purple and black shirt dress is a captivating fusion of elegance and edginess, a very versatile garment that effortlessly transitions between day and night. Its unique color combination and classic silhouette create a beautiful blend of contemporary style and timeless fashion, making it a wardrobe essential.
The deep purple and black hues intertwine in a striking floral print, creating a visual impact that seeks attention.
The shirt dress silhouette exudes a relaxed yet polished vibe, making it a versatile choice for various occasions. The structured collar and button-down front nod to classic menswear, while the cinched waist adds a feminine touch that accentuates your figure. The calf-length hemline strikes a perfect balance between formal and casual, allowing for easy pairing with both heels and flats.
Worn with a wide belt, it can be transformed into a more tailored and defined look, perfect for professional settings. Without a belt and paired with casual accessories, it becomes an effortless ensemble suitable for everyday outings. The dress can also be layered with a blazer or cardigan for added warmth and style during cooler months.
Whether worn for a business meeting, a brunch with friends, or a night out, the purple and black shirt dress embodies adaptability. Its ability to fuse refined color choices with a universally flattering silhouette makes it a timeless addition to any wardrobe, accommodating a range of personal styles and fashion preferences.
This beautiful shirt dress is a harmonious marriage of colors and style. Its confident combination of deep purple and classic black, paired with the versatile shirt dress silhouette, creates a statement piece that speaks to both modern sensibilities and timeless elegance.