Description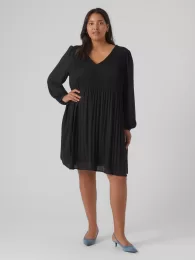 Details: little black dress
Vero Moda Black Midi Dress
V-Neck
Long sleeves
Regular sleeves
Buttoned cuffs
Drawstring fastening
Above knee
Polyester lining
Curve Regular Fit
To shop more dresses (click here)
55% Recycled Polyester, 45% Polyester
Product number: 10297194
Further information:
A black dress is a classic and versatile piece of clothing that is elegant and sophisticated. This dress is a wardrobe staple for many, offering timeless style and versatility for a variety of occasions.
The black dress typically has a V-neckline, which elongates the neck and adds a touch of femininity to the look. It is cinched at the waist with a tie or optional gold/silver belt, allowing you to adjust the fit to your liking. The dress is calf length, giving you options for both casual and formal wear.
Black is a classic and universally flattering colour that is a popular choice for dresses. It is timeless, slimming, and versatile, making it suitable for a wide range of occasions and easy to accessorize with various colors and patterns.
One of the key advantages of a black dress is its versatility. It can be dressed up or down, making it suitable for everything from daytime events to evening galas. Pair it with boots, sandals or flats for a casual daytime look, or dress it up with heels and statement jewelry for a more formal affair. The design ensures a comfortable fit, regardless of your body shape or size.
A black  dress is a go-to choice for various occasions, including weddings, business meetings, or a dinner date. Its classic and timeless appeal ensures that it will always be in style, making it a reliable option for any event.
Check out our daily videos on facebook for style tips and sizing or even give the girls a call and they will be more than happy to help pick an outfit for you.