Description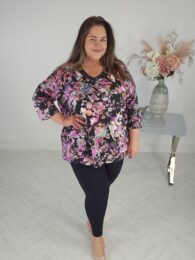 Details: plus size clothing
Ulla Popken Watercolour Floral 3/4 Sleeve Top
v-neck with rhinestone trim
3/4 sleeves
These colourful, artistic flowers are sure to brighten up your wardrobe
Shop curvy trousers (click here)
100% cotton
Style no: 824179100
Further information:
The Watercolour Floral 3/4 Sleeve Top with a subtle sparkle V-neck exudes an elegant charm that effortlessly combines the delicacy of watercolor florals with a touch of understated glamour. The top features a graceful fusion of vibrant hues and refined design, creating a garment that embodies grace and sophistication.
The main attraction of the top lies in its captivating watercolor floral pattern, reminiscent of an artist's delicate brushstrokes. Soft, pastel hues of blush pink, lavender, and baby blue intertwine seamlessly, forming a breathtaking garden of abstract blooms that cascade gently down the front and back. Each petal and leaf is rendered with intricate detailing, creating a sense of depth and movement that evokes a sense of natural beauty and tranquility.
The 3/4 sleeves offer a graceful balance between coverage and breathability, making the top an ideal transitional piece that can be worn throughout the seasons. The lightweight, flowy fabric drapes softly over the body, ensuring a comfortable and flattering fit for various body types. The subtle sparkle V-neck adds a touch of allure, catching the light delicately and imparting a subtle shimmer that enhances the overall elegance of the garment.
The top's silhouette is designed to flatter the figure, with a gentle flare at the hem that adds a graceful sway to the wearer's movements. The neckline's subtle sparkle serves as a focal point, drawing attention to the collarbone and face, adding a hint of glamour without overpowering the soft femininity of the floral design.
Ideal for both daytime and evening wear, this Watercolour Floral 3/4 Sleeve Top with a sparkle V-neck effortlessly transitions from casual brunches to sophisticated evening events. Pair it with curvy trousers for a polished look or style it with a jeans for something more casual. Its delicate charm and subtle sparkle make it a versatile and timeless addition to any wardrobe, perfect for those who appreciate the fusion of grace and allure in their attire.
Check out our daily videos on facebook.