Description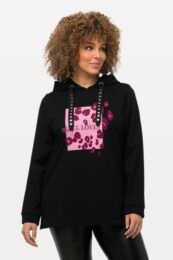 Details: hoodies for women
Ulla Popken REBEL LOVE Long Sleeve Graphic Hoodie
attached hood with studded drawstring
long sleeves with ribbed cuffs
textured animal print graphic with "REBEL LOVE" lettering
side slits for comfort
100% cotton
Bold animal print and a studded drawstring add edgy drama to this sweatshirt
Style No: 820201100
Further information:
A fashionable hoodie is a contemporary wardrobe essential that seamlessly combines style and comfort. This versatile piece of clothing has evolved far beyond its athletic origins and has become a statement piece in modern fashion. A fashionable hoodie is designed with attention to detail, utilizing high-quality materials, and incorporating unique features to elevate its aesthetic appeal.
The foundation of a fashionable hoodie is its construction. Crafted from premium fabrics like soft cotton, brushed fleece, or luxurious blends, it offers both coziness and durability.
The design of a hoodie is a testament to its modernity. It features a sleek and well-tailored silhouette that flatters the wearer's body.  The hood may be oversized for a trendy look or feature intricate details like drawstrings with metal accents.
One of the distinguishing features of a fashionable hoodie is its attention to detail. This can include unique stitching patterns, contrasting color combinations, or subtle embroidery.
Graphic prints, logos, and artistic designs on the front of the hoodie add an extra layer of personality and style.
The fit of a fashionable hoodie is carefully considered to strike a balance between comfort and a tailored look. It may be slightly tapered at the waist and cuffs to provide a more refined appearance. The length can vary, with some hoodies falling at the hip, while others extend to cover the hips or even lower, creating an oversized and trendy look.
The thoughtful design elements make it a versatile and trendy piece suitable for various occasions. Whether worn with jeans for a casual outing or layered under a gilet for a fashion-forward ensemble, the  hoodie continues to be a fashion icon, appealing to individuals who value both comfort and aesthetics in their clothing choices.
Check out our various leggings and jeans on our website (click here)