Description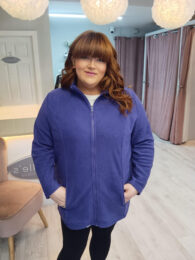 Details: plus size clothing
Ulla Popken Purple Modular Fleece Zip Front Jacket
stand-up collar
front zipper
2 pockets
front and back princess seams
long sleeves with loop to attach to outer jacket

76% polyester, 24% elastane

shop leggings (click here)
Style no: 796970847
Further information:
The purple modular fleece is an essential piece of clothing that seamlessly combines fashion, comfort, and functionality into one versatile package. This garment is designed to provide warmth and style, making it a go-to choice for various occasions.
The first thing that strikes you about this fleece is its enchanting purple color. Purple is often associated with creativity, luxury, and wisdom. In the context of this modular fleece, the rich purple hue creates an appealing visual aesthetic that stands out without being overly flashy. It's a colour that can effortlessly elevate your look, whether you're dressing for a casual outing, a brisk outdoor adventure, or a cozy night in.
Fleeces are renowned for their comfort, and this modular fleece is no exception. Crafted from high-quality, soft materials, it provides excellent insulation while remaining lightweight and breathable. The result is a cozy, plush garment that keeps you warm without feeling heavy or restrictive. Whether you're hiking, camping, or simply lounging at home, this fleece is designed to keep you snug and content.
Practicality is another strong suit of this modular fleece. It often comes equipped with multiple pockets, adding convenience to your outdoor activities. You can store small essentials like your phone, keys, or a compact wallet, ensuring you have everything you need at your fingertips.
Its alluring purple color, modular design, and cozy comfort make it a top choice for various settings and weather conditions. Whether you're looking to make a fashion statement or stay warm on an outdoor adventure, this fleece combines style and practicality seamlessly. It's a must-have for anyone who values both fashion and function in their clothing choices.
Check out our daily videos on facebook for style tips, sizing and new arrivals.