Description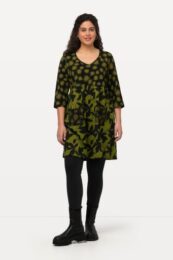 Details: plus size clothing
Ulla Popken Mix Print Empire Waist Tunic
v-neck
3/4 sleeves
ruffled empire waistband
two patch pockets
side slits for comfort
100% cotton
Shop leggings (click here)
Style no: 824491437
Further information:
The black and green empire waist V-neck 3/4 sleeve ladies tunic is a stunning blend of classic elegance and contemporary flair, designed to accentuate the natural beauty of the female form. Crafted with meticulous attention to detail, this exquisite garment seamlessly merges timeless style with modern sensibilities.
The deep V-neckline gracefully elongates the neck, adding a touch of allure to the overall look. The empire waistline cinches just below the bust, creating a flattering silhouette that drapes effortlessly over the body. The deep black hue serves as a canvas for the intricate green patterns, accentuating the tunic's sophisticated appeal.
The three-quarter sleeves strike a perfect balance between modesty and chic, allowing for easy movement and versatility in styling. The snug fit around the arms gently tapers into loose, flowing fabric, ensuring comfort without compromising on style.
Made from a luxurious blend of high-quality materials, the tunic boasts a soft, breathable texture that feels gentle against the skin. The expert craftsmanship and attention to detail are evident in every stitch, showcasing the dedication of skilled artisans who have meticulously brought this piece to life.
Whether for a casual day out or a special evening event, this tunic effortlessly transitions from day to night, offering a versatile wardrobe staple for the modern woman. Its rich, contrasting color palette exudes a sense of confidence and sophistication, making it a perfect choice for those seeking to make a bold yet refined fashion statement.
Overall, this black and green empire waist V-neck 3/4 sleeve ladies tunic is a testament to timeless design and impeccable craftsmanship, offering a harmonious blend of comfort, style, and sophistication that is sure to captivate the discerning eye of the fashion-forward woman.
Check out our daily facebook videos for style tips, new arrivals and sizing guides.