Description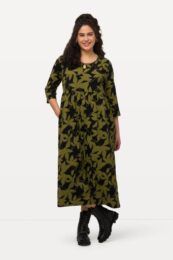 Details: plus size dresses for women
Ulla Popken Leaf Print Empire Waist Cotton Dress
round key hole neckline
gathered empire waist
3/4 sleeves
side seam pockets
a-line swing hem
100% cotton
Shop shape wear (click here)
Style no: 824456437
Further information:
The Leaf Print Empire Waist Cotton Dress is an exquisite blend of nature-inspired charm and timeless elegance. Crafted from premium, lightweight cotton fabric, it is designed to provide both comfort and style for the wearer. The empire waist silhouette creates a flattering and feminine look, with the waistline sitting just below the bust, accentuating the narrowest part of the torso and allowing the fabric to cascade effortlessly over the body.
The captivating leaf print motif, meticulously curated and intricately detailed, adds a touch of natural allure to the dress. Delicate and artfully rendered leaf patterns in green cover the dress. The intricate details of the leaf print showcase the attention to detail that define the dress.
The flowing skirt, gently draping down to a modest length, allows for ease of movement and adds a graceful sway to every step. The soft, breathable cotton fabric ensures a comfortable wearing experience, making it a versatile choice for various occasions, from casual daytime outings to more formal events. The dress features a modest yet stylish neckline, adding to its overall sophisticated appeal.
This Leaf Print Empire Waist Cotton Dress is an embodiment of effortless sophistication, blending a classic silhouette with a touch of organic charm. It is a versatile addition to any wardrobe, suitable for those who appreciate understated elegance and appreciate the beauty of nature reflected in fashion. Whether for a relaxed brunch or an evening soirée, this dress is poised to make a statement with its understated yet captivating design.
Pair with trainers, heels or a chunky boot for various style options.
Check out our daily videos on facebook for style tips and new arrivals.