Description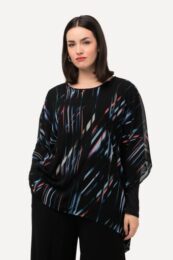 Details: plus size clothing
Ulla Popken Layered Graphic Chiffon Blouse
scoop neck
sheer printed chiffon
opaque long sleeve undershirt

Fabric 100% polyester Lining 95% viscose 5% elastane

Shop trousers (click here)
Style no: 822644100
Further information:
This blouse embodies a perfect fusion of elegance and contemporary fashion, seamlessly combining intricate design elements with practical layering for a versatile and sophisticated ensemble. This stylish blouse is an exquisite embodiment of modern chic, tailored to meet the demands of a dynamic and fashion-forward lifestyle.
The black chiffon blouse exudes an air of grace and refinement, with its lightweight and sheer fabric exquisitely draping the body, creating a flowing and ethereal silhouette. The delicate material is adorned with a meticulously crafted graphic print, adding a touch of artistic flair to the garment. The graphic design, meticulously integrated into the chiffon, showcases intricate patterns or motifs, enhancing the blouse's visual appeal and lending a distinctive, artistic charm to the overall look.
Beneath the sheer chiffon layer lies the opaque long-sleeve undershirt, designed to provide a practical yet stylish solution for the wearer. This complementary undershirt offers a seamless combination of comfort and functionality, ensuring modesty and versatility without compromising the blouse's aesthetic appeal. The snug and opaque undershirt serves as an excellent base, allowing the chiffon blouse to gracefully drape over it, accentuating the intricate graphic print and adding a subtle layer of depth and dimension to the ensemble.
The carefully layered construction of the blouse and undershirt creates a striking contrast, highlighting the delicate transparency of the chiffon against the solid backdrop of the undershirt, adding a contemporary twist to the classic black blouse. The long sleeves of the undershirt provide additional coverage and warmth, making the ensemble suitable for various occasions, whether formal or casual.
The Graphic Print Black Chiffon Blouse represents a seamless blend of sophistication and functionality, catering to the discerning tastes of fashion enthusiasts who appreciate the intricate details and versatility of a well-designed wardrobe staple.
Check out our daily videos on facebook for style tips, sizing guides and new arrivals.