Description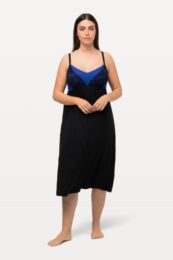 Details: plus size clothing
Ulla Popken Lace Panel Sleeveless Negligee
adjustable straps
v-neck
lace overlay on bodice
ruffled cross seam
Shop more nightwear (click here)

95% viscose, 5% elastane

Style No: 820615100
Further information:
Introducing our alluring lace panel black sleeveless negligee, a seductive blend of sensuality and sophistication, meticulously crafted from the finest viscose and elastane materials. Designed to accentuate your natural beauty, this exquisite garment promises to envelop you in luxurious comfort while igniting a sense of allure and elegance.
The sleeveless design exudes a timeless charm, allowing your shoulders to bask in the soft caress of the night. The smooth viscose fabric delicately skims your skin, providing a lustrous sheen that enhances the negligee's allure. With just the right amount of elastane blended in, this negligee offers a hint of stretch for a form-flattering silhouette, embracing your curves with a gentle yet firm embrace.
The centerpiece of this enchanting piece lies in the intricate lace panel that adorns the front, heightening the allure with its delicate, floral-inspired patterns. The lace panel, meticulously crafted to showcase an intricate balance of opulence and subtlety, bestows a hint of mystique and romance to the overall ensemble. Its ethereal design seamlessly blends with the smooth black fabric, creating a captivating contrast that is both mesmerizing and enchanting.
The delicately woven lace extends to the back, gracefully framing the contours of your silhouette with a touch of timeless elegance. Its intricate patterns intertwine with the sleek black fabric, creating an exquisite fusion of textures and visual appeal that is sure to captivate the senses.
Emanating an aura of luxury and allure, our viscose and elastane negligee is an ode to the art of seduction and refined elegance. Whether indulging in an intimate evening or simply reveling in moments of self-indulgence, this negligee embodies the perfect balance of comfort and allure, making it an essential addition to your intimate apparel collection.
Revel in the luxurious embrace of our lace panel black sleeveless negligee, a stunning embodiment of elegance and sensuality, designed to elevate your nighttime rituals and infuse every moment with an aura of enchantment.
Check out our daily videos on facebook for style tips, sizing and new arrivals.