Description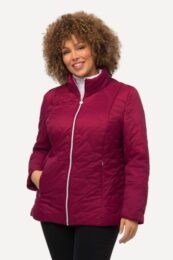 Details: quilted jacket womens
Ulla Popken HYPRAR Water Repellent Quilted Jacket
fully lined with inside pocket
water repellent
stand-up collar
2 zippered pockets
Shop more jackets (click here)

Fabric 100% polyamide, lining 100% polyester

This fully lined, quilted design will keep you warm and dry
Further information:
A short quilted jacket is a versatile and stylish outerwear piece that combines comfort, warmth, and fashion. Typically, it is designed to be worn during cooler weather, making it an essential addition to any wardrobe for both men and women.
The defining feature of a short quilted jacket is its quilted or padded construction. The exterior fabric is often made of durable materials like nylon or polyester, which provide resistance to wind and light precipitation. This outer layer serves as a protective shell against the elements, ensuring that the wearer stays cozy and dry.
The quilting is more than just decorative; it also has a functional purpose. Quilting involves stitching together layers of fabric with padding in between, usually in a diamond or square pattern. This design not only adds a touch of texture and dimension to the jacket but also helps to distribute the insulation evenly, preventing cold spots and ensuring uniform warmth.
Short quilted jackets typically feature a front zipper or snap button closure, making them easy to put on and take off. Some designs may include a hood, which adds an extra layer of protection against rain or snow, while others have a stand-up collar that can be zipped up for added warmth around the neck.
These jackets are available in a wide range of colors and styles, allowing wearers to express their personal taste. They can be found in various lengths, from waist-length to hip-length, catering to different preferences and body types. Additionally, short quilted jackets are often equipped with multiple pockets, providing convenient storage for small essentials like keys, phones, or gloves.
The versatility of the short quilted jacket is another key feature. It can be dressed up or down, making it suitable for various occasions. Whether worn over a casual outfit for a day of errands or layered with a sweater and paired with jeans for a more polished look, this jacket adds a touch of sophistication and warmth to any ensemble.
Check out our daily facebook videos for style tips and new pieces.  (click here)