Description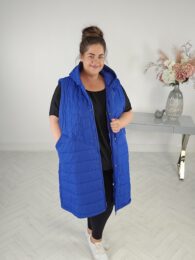 Details: plus size clothing
Ulla Popken Hyprar Quilted Hooded Snap Front Gilet
attached hood
hidden 2-way zipper with snaps
quilted pockets
cobolt blue colour
long side slits with snaps
fully lined

60% polyamide, 40% polyester lining 100% polyester

shop leggings (click here)
Style no: 823105760
Further information:
The ladies quilted hooded snap front gilet epitomizes a harmonious blend of functionality and fashion, offering a perfect balance between warmth and style for the modern woman. With a focus on practicality without compromising on aesthetic appeal, this gilet seamlessly merges utilitarian design with contemporary elegance.
Crafted with precision, the quilted pattern of the gilet not only adds an element of visual interest but also ensures optimal insulation, making it an ideal outerwear choice for cooler weather. The meticulously stitched quilting provides a textured yet refined appearance, giving the garment a sophisticated edge.
The addition of a snug, well-insulated hood adds an extra layer of protection against the elements, making it a versatile piece suitable for varying weather conditions. Whether for a brisk outdoor adventure or a casual stroll in the city, the hood provides both style and functional comfort, allowing the wearer to stay cozy without sacrificing on-trend fashion.
The snap front closure offers both convenience and style, providing an easy-to-use fastening mechanism that adds to the overall sleek and minimalist look of the gilet. The streamlined silhouette of the snap front closure contributes to a polished aesthetic, emphasizing the wearer's figure while providing a flattering and tailored fit.
Crafted from premium, durable materials, the gilet ensures long-lasting wear and comfort. The soft, yet resilient fabric not only provides warmth but also allows for ease of movement, ensuring that the wearer can go about her day with unrestricted comfort and confidence.
With its versatile design and attention to detail, the ladies quilted hooded snap front gilet is the perfect wardrobe essential, seamlessly combining practicality with a touch of sophistication. Ideal for both outdoor adventures and urban escapades, this gilet is a must-have for the contemporary woman who values both style and functionality.
Check out our daily videos on facebook for style tips, new arrivals and size guides.