Description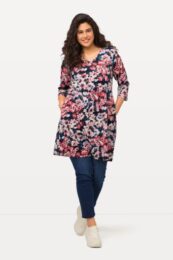 Details: floral print tunic dress
Ulla Popken Floral Print Tunic Dress
scoop neck
3/4 sleeves
side seam pockets
a-line swing
All-over florals decorate this longline silhouette to keep you thinking of springtime all winter long
100% cotton
Breathable
Style No: 822087750
Further information:
A floral tunic dress is a charming and versatile garment that seamlessly blends comfort with style. This tunic dress is characterized by its loose-fitting, tunic-style silhouette adorned with vibrant floral patterns, making it a go-to choice for those seeking a fashionable yet relaxed look.
The tunic dress features a loose and flowing silhouette that typically falls above or below the knee, offering ease of movement and a comfortable fit. It has an A-line shape, allowing it to flatter a wide range of body types.
The standout feature of this dress is its delightful floral patterns.
Floral tunic dresses are crafted from a variety of materials, including lightweight and breathable fabrics like cotton. This material ensures comfort during warm weather while providing a relaxed drape. For cooler seasons, you can find tunic dresses in thicker fabrics like knit or wool blends, allowing for year-round wear.
The neckline of a floral tunic dress can vary, from round necks to V-necks, boat necks, or even off-shoulder styles, adding diversity to your choices.
A floral tunic dress is a versatile piece of clothing that can be dressed up or down to suit various occasions. For a casual daytime look, pair it with sandals or flats and minimal accessories.
We have a wide variety of jeans, trousers and leggings on the website for you to view or why not call and ask the girls for their style advice.  We are happy to help you pick the perfect outfit to suit your figure and style. Watch our daily videos for style tips and advice on facebook.