Description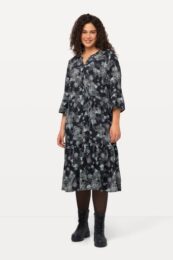 Details: plus size clothing
Ulla Popken Floral Print Notch Neck Tiered Dress
round notch neckline with small button placket
3/4 tulip ruffle sleeve
navy
double flounce a-line hem
Sketch Floral Print Tiered Dress tiers and ruffles add a feminine touch
100% viscose
Shop shape wear (click here)
Style no: 824475130
Further information:
The sketch floral print notch neck tiered midi dress, crafted entirely from 100% viscose, epitomizes a harmonious blend of effortless style and luxurious comfort. The dress features a unique and captivating sketch floral print that seamlessly intertwines artistry and elegance, creating an enchanting visual narrative that is both contemporary and timeless.
The notch neck design adds a touch of allure and sophistication to the dress, framing the neckline in a flattering and alluring manner. This feature, combined with the enchanting floral print, accentuates the dress's overall appeal, making it a perfect choice for both casual daytime outings and more formal evening events.
The tiered construction of the dress not only adds an element of playful charm but also enhances the overall silhouette, creating a graceful and fluid drape that gently sways with every movement. The tiered layers, carefully crafted to ensure a seamless transition between each tier, add depth and texture to the dress, making it a captivating and dynamic piece that effortlessly catches the eye.
Crafted from 100% viscose, the dress offers a luxurious and indulgent wearing experience, with the fabric's smooth and silky texture delicately caressing the skin. Viscose's breathable nature allows for optimal comfort, making the dress an ideal choice for warm, sunny days or balmy summer evenings. The lightweight and airy feel of the fabric adds to the dress's versatility, ensuring it remains a go-to option for a wide range of occasions.
The midi length of the dress strikes a perfect balance between sophistication and practicality, allowing for ease of movement while exuding an understated elegance that is both modern and refined. The dress's versatile nature makes it an essential addition to any wardrobe, serving as a versatile and effortlessly chic option that effortlessly captures the essence of contemporary femininity and timeless charm.
Check out our daily videos on facebook.