Description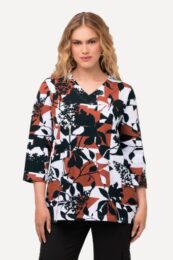 Details: plus size clothing
Ulla Popken Autumn Floral Print Top
OEKO-TEX (Made in Green)
v-neck
3/4 sleeves
A-line
A colorful addition to a classic silhouette
Shop leggings (click here)

95% cotton 5% elastane

Style No: 822442100
Further information:
The 3/4 length sleeve V-neck autumn floral cotton top is a stylish and versatile addition to any Autumn wardrobe. This exquisite garment seamlessly blends fashion with comfort, making it a must-have for the cooler months. Crafted from soft and breathable cotton fabric, it provides the perfect balance between coziness and breathability.
The V-neckline of the top adds a touch of femininity and elegance to the overall design, drawing attention to the neckline and framing the face beautifully. It's a classic choice that suits various body types and can be dressed up or down for different occasions.
The 3/4 length sleeves are a practical choice for the autumn season, providing just the right amount of coverage to keep you warm without overheating. They also allow for easy layering with jackets, cardigans, or scarves, making it a versatile piece that can adapt to changing weather conditions.
The standout feature of this top is its autumn floral print. The delicate, nature-inspired floral pattern captures the essence of the season, with warm earthy tones and rich autumnal hues. The flowers are intricately detailed, showcasing the beauty of fall foliage in a way that adds a touch of sophistication to your ensemble.
This top pairs effortlessly with a variety of bottoms, jeans and leggings , making it suitable for both casual outings and more formal occasions.
Its blend of cotton fabric, stylish design, and captivating floral print make it a wardrobe staple that celebrates the beauty of the season while keeping you cozy and chic. With this top, you can embrace the spirit of autumn with confidence and style.
Check out our daily videos on facebook for style tips and new arrivals.