Description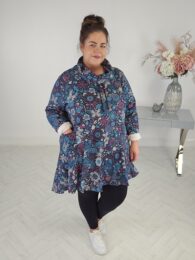 Details: tops for women
Ulla Popken Embroidered Look Floral Print Tunic Sweatshirt
adjustable drawstring tie stand-up draped collar
front seam details, patch pockets
long sleeves
rounded hi-low swing hem, longer in the back
a-line fit
100% cotton
shop leggings (click here)
Style No: 812485130
Further information:
The Embroidered Look Floral Print Tunic Sweatshirt is a captivating and versatile fashion piece that seamlessly combines comfort and style. Crafted from 100% cotton, this sweatshirt boasts a luxurious softness against the skin, making it an ideal choice for both casual and semi-formal occasions.
The A-line fit of this tunic sweatshirt is designed to flatter various body types. It gently drapes from the shoulders, creating a silhouette that is both comfortable and chic. The A-line cut skims over the body, providing a relaxed and effortless look while maintaining a touch of sophistication.
One of the standout features of this tunic sweatshirt is its intricate embroidered look floral print. The floral pattern adds a delightful burst of color and texture, elevating the overall aesthetic of the garment. The embroidery-inspired design gives the sweatshirt a unique and artisanal feel, perfect for those who appreciate attention to detail in their clothing.
The tunic length of this sweatshirt adds an extra layer of versatility. It can be worn as a standalone piece or layered over leggings or skinny jeans for added warmth and style. The long sleeves provide comfort and coverage, making it suitable for transitional seasons.
The 100% cotton fabric ensures breathability and comfort, making it an excellent choice for all-day wear. Whether you're running errands, meeting friends for brunch, or attending a casual evening event, this tunic sweatshirt will keep you feeling cozy and looking fabulous.
Check out our daily videos on facebook for style tips, sizing and new arrivals.