Description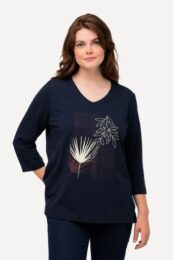 Details: plus size clothing
Ulla Popken Eco Cotton Flower Graphic 3/4 Sleeve Top
made from sustainable organic cotton
v-neck
3/4 sleeves
navy
side slits for comfort
100% cotton
Shop more Ulla Popken (click here)
Style no: 821379130
Further information:
The navy Eco Cotton Flower Graphic 3/4 Sleeve Top seamlessly merges style and sustainability, offering a harmonious blend of eco-consciousness and chic design. Crafted from premium organic cotton, this top is a testament to ethical fashion, showcasing a commitment to environmental responsibility and the preservation of natural resources.
The rich navy hue of the top exudes a sense of sophistication and timelessness, making it a versatile addition to any wardrobe. The subtle sheen of the eco cotton fabric enhances the overall allure of the piece, imparting a luxurious yet understated elegance that is suitable for both casual outings and more formal occasions.
The delicate flower graphic, delicately printed on the fabric, adds a touch of femininity and grace to the top. The intricate detailing of the flowers, with their gentle petals and graceful stems, conveys a sense of natural beauty and tranquility, evoking a connection to the serene allure of the outdoors. The thoughtful incorporation of the floral motif reflects a commitment to celebrating nature's beauty while promoting sustainable and eco-friendly practices.
The 3/4 sleeves of the top offer a perfect balance between coverage and breathability, making it an ideal choice for transitional seasons or for creating stylish layered looks. The tailored fit of the top gently skims the body, accentuating the silhouette while ensuring comfort and ease of movement. The smooth and soft texture of the fabric provides a luxurious sensation against the skin, offering a truly indulgent wearing experience.
With its elegant design, commitment to eco-friendly materials, and emphasis on comfort, this top serves as a gentle reminder of the beauty and importance of preserving our natural environment.
Check out our daily videos on facebook for style tips, size guides and new arrivals.
Can't find your size? Give the girls a call and they will be more than happy to help you.