Description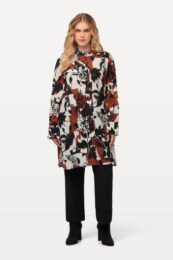 Details: plus size clothing
Ulla Popken Autumn Leaf Print Long Tunic Blouse
stand-up collar with button placket
long sleeves with cuffs
rounded hemline
side slits for comfort
A stand-up collar and full-length button placket give this flattering longline pick an elevated, sophisticated look
100% viscose
Shop leggings (click here)
Style No: 822212100
Further information:
The Autumn Leaf Print Long Sleeve Tunic Blouse is a captivating and versatile garment that encapsulates the essence of fall in its design. This blouse is the perfect addition to your autumn wardrobe, offering a combination of style, comfort, and seasonal charm.
Crafted from a lightweight and breathable fabric, the tunic blouse drapes gracefully over the body, ensuring both comfort and ease of movement. The long sleeves provide essential coverage for cooler autumn days while maintaining a sense of elegance and sophistication. The tunic length adds an extra layer of coziness and versatility, allowing you to wear it as a standalone piece or pair it with leggings or skinny jeans.
The standout feature of this blouse is its stunning autumn leaf print. The intricate design features a medley of leaves in various sizes and shapes, mirroring the vibrant colours of fall foliage. Rich shades of red, orange, gold, and brown come together to create a warm and inviting palette, evoking the feeling of a crisp autumn day.
The tunic blouse's design is both timeless and contemporary. It features a V-neckline that flatters the neckline and elongates the silhouette. The relaxed fit provides comfort without sacrificing style, making it suitable for a range of occasions, from casual outings to more formal gatherings.
Versatility is a key aspect of this blouse's appeal. It can be dressed up with a belt and heeled boots for a polished look or worn casually with sneakers for a laid-back, yet chic, vibe. Layering options are endless, allowing you to experiment with scarves, vests, or cardigans to adapt to changing weather conditions.
Check out our daily videos on facebook for style tips and new arrivals.