Description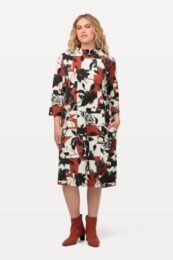 Details: plus size dresses
Ulla Popken Autumn Leaf Print 3/4 Sleeve Mock Neck Dress
stand-up collar
3/4 sleeves
side seam pockets
side slits for comfort

82% viscose, 16% polyamide, 2% elastane

shop tights (click here)
Style No: 822223100
Further information:
The Autumn Leaf Print 3/4 Sleeve Mock Neck Dress is an exquisite and stylish piece that captures the essence of fall in its design. This dress is a perfect embodiment of the season, offering a harmonious blend of fashion-forward aesthetics and comfort.
Crafted from a high-quality, medium-weight fabric, this dress boasts a luxurious feel against the skin. It is carefully tailored to provide a flattering and comfortable fit. The 3/4 length sleeves offer just the right amount of coverage for autumn, allowing you to transition seamlessly between outdoor and indoor settings.
The mock neck collar adds a touch of sophistication to the dress, while also providing extra warmth and coziness around the neck. It frames the face elegantly and gives the dress a contemporary edge. The A-line silhouette is universally flattering, accentuating the waist and skimming over the hips for a graceful and feminine look.
What truly sets this dress apart is its captivating autumn leaf print. The intricate design showcases an array of leaves in various shapes and sizes, mirroring the vibrant colors of fall. The rich brown & black set against a back drop of cream adds a special design to your autumn/winter wardrobe.
This dress is not only stylish but also highly versatile. It's suitable for a wide range of autumn occasions, from casual outings to more formal events such as fall weddings or holiday gatherings. Pair it with ankle boots and a statement belt for a chic daytime look, or dress it up with heels and elegant accessories for an evening affair.
Check out our daily videos on facebook for style tips and new arrivals.