Description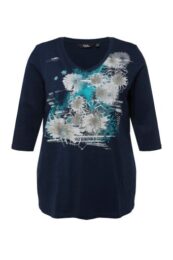 Details: plus size clothing
Ulla Popken 3/4 Sleeve V-Neck Floral Graphic Top
v-neck
3/4 sleeves
floral graphic with rhinestone detail on chest
Graphic: Artistic painted flowers drip with rhinestones for a sparkling, colourful look
100% cotton
shop more Ulla Popken (click here)
Style no: 821705130
Further information:
This top with rhinestone detail exudes a perfect blend of sophistication and glamorous femininity. The deep navy hue sets an elegant backdrop for the delicate floral graphic, while the rhinestone embellishments add a touch of dazzling allure, making this top a versatile and eye-catching addition to any wardrobe.
The V-neck design of the top enhances its allure, creating a flattering silhouette that accentuates the neckline and adds a touch of allure to the overall look. The 3/4 sleeves provide a balance between coverage and breathability, making the top suitable for various seasons and occasions, from casual gatherings to more formal events.
The intricate floral graphic, meticulously printed onto the fabric, embodies a sense of grace and natural beauty. The delicate detailing of the flowers, with their gentle petals and graceful stems, conveys a timeless elegance that seamlessly complements the navy background. The floral motif evokes a connection to the tranquility and charm of nature, adding a touch of serenity to the overall aesthetic.
The carefully integrated rhinestone detailing adds a subtle yet striking touch of glamour to the top. Strategically placed to enhance the floral design, the rhinestones catch the light and create a mesmerizing sparkle that elevates the overall sophistication of the garment. The precise placement of the rhinestones reflects a dedication to creating a piece that exudes both refined elegance and a subtle hint of opulence.
Crafted from high-quality materials, the top boasts a luxurious texture that gently caresses the skin, ensuring a comfortable and indulgent wearing experience. The tailored fit of the top accentuates the body's natural curves while allowing for ease of movement, making it an excellent choice for both style and comfort.
In essence, the top with rhinestone detail is more than just a fashion piece; it is a symbol of timeless grace and understated glamour, capturing the essence of femininity and elegance with a touch of dazzling sophistication.
Check out our daily videos on facebook.