Description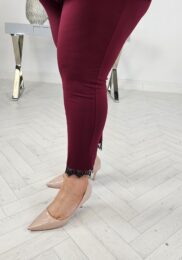 Details: womens dressy leggings
SPG Plain Burgundy Lace Trim Trousers

Capri-length leggings featuring lace trim at the hems
Elastic waistband
Darts on the back
Shop blazers (click here)
Composition: 68% Viscose 27% Nylon 5% Elastane
Style No: 19571
Further information:
Lace trim capri length trousers are a charming and versatile addition to a woman's wardrobe, offering a blend of comfort and style that's perfect for various occasions. These trousers combine the classic length with delicate lace embellishments, creating a unique and eye-catching look that can easily transition from casual to dressy.
Capri length trousers typically feature a cut that falls just below the knee or mid-calf, providing a flattering silhouette that elongates the legs.  What sets lace trim capri length trousers apart is the intricate lace detailing that adorns the hems or sides of the trousers. This lace adds a touch of femininity and elegance, making them suitable for both everyday wear and more formal events.
This versatility allows you to choose a pair that complements your personal style and the specific occasion you have in mind. Lace trim can be found along the bottom hem.
In terms of materials, these trousers are typically made from a blend of breathable and comfortable fabrics such as cotton, linen, or lightweight blends.
Styling lace trim capri length trousers is a breeze. For a casual daytime look, pair them with a flowy blouse and some flat sandals. To elevate the outfit for a more formal occasion, opt for a tailored blouse or a fitted blazer along with heels or dressy flats.
In conclusion, lace trim capri length trousers offer a stylish and comfortable option for a variety of occasions. Their combination of the classic capri length with delicate lace detailing adds a touch of sophistication and femininity to any outfit, making them a versatile and chic choice for your wardrobe.
Check out our daily videos on facebook for style tips and inspiration.