Description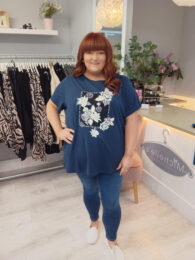 Details: plus size tops
Only Navy Floral Detail T-Shirt
round neck
detail on front
plain colour on back
breathable material
short sleeves
100% cotton
shop more t-shirts (click here)
style no: 15308166
Further Information
A short-sleeved floral cotton T-shirt embodies a harmonious blend of style and comfort. Crafted from high-quality cotton fabric, this wardrobe essential offers a soft and breathable feel, making it an ideal choice for casual wear during warm weather. The natural properties of cotton provide excellent moisture absorption, allowing for enhanced ventilation and ensuring a cool and comfortable experience even during extended wear.
The floral pattern adds an element of playfulness and elegance to the T-shirt, making it a versatile piece that can effortlessly transition from daytime outings to casual evening gatherings. The intricate floral designs, ranging from dainty blossoms to bold and vibrant prints, create a visually appealing aesthetic, adding a touch of charm and sophistication to any ensemble.
Furthermore, the short sleeves provide a relaxed and laid-back look, offering ample freedom of movement and making it an excellent option for various outdoor activities or leisurely strolls. The T-shirt's silhouette is often tailored for a flattering fit, complementing various body shapes and sizes. Its versatility allows for easy pairing with a multitude of bottoms, including jeans, shorts, or skirts, facilitating the creation of diverse and stylish outfits for different occasions.
In terms of maintenance, the cotton fabric is known for its durability and easy-care properties, making the T-shirt conveniently machine washable and suitable for regular use. Additionally, the vibrant floral prints retain their color and shape, ensuring long-lasting visual appeal and preserving the T-shirt's overall aesthetic quality over time.
Overall, the short-sleeved floral cotton T-shirt serves as a stylish and comfortable addition to any wardrobe, combining the timeless appeal of cotton with the lively charm of floral patterns, ultimately offering a versatile and chic clothing option for individuals seeking both fashion and comfort in their everyday attire. Perfect over jeans and leggings and equally as perfect under blazers, jackets and cardigans. only-floral-detail-t-shirt
Check out our daily videos on facebook for style tips and new arrivals.