Description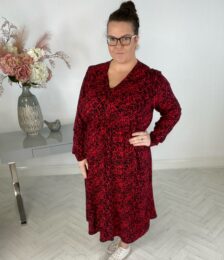 Details: plus size clothing
Only Carmakoma Red & Black Graphic Dress
empire waistline
v-neck
long sleeves
midi length
100% viscose
Shop black tights (click here)
Style no: 15311725
Further information:
The red and black v-neck midi dress is a captivating ensemble that seamlessly merges style and comfort. Crafted with meticulous attention to detail, this dress is fashioned from 100% viscose, a fabric known for its luxurious feel and breathability. The choice of viscose not only contributes to the dress's soft texture but also lends it a subtle sheen, enhancing the overall allure of the garment.
The bold colour palette of red and black creates a striking visual impact. The dress features a V-neckline that adds a touch of allure, drawing attention to the collarbone and neck. The mid-length silhouette, commonly known as midi, strikes a harmonious balance between sophistication and modernity, making it suitable for a variety of occasions.
Long sleeves provide coverage and lend an element of refinement to the dress. The sleeves are tailored to follow the natural contours of the arms, creating a flattering and comfortable fit. Whether worn during the cooler months or for an evening event, the long sleeves make this dress a versatile choice.
The dress is tailored to flatter the figure, with a fitted waist that subtly defines the silhouette before gracefully cascading into a flowing skirt. This design ensures a flattering and comfortable fit for various body types.
The use of red and black in tandem creates a visually striking contrast, adding a sense of drama to the overall aesthetic. The dress is versatile enough to be styled for both casual and more formal settings. Pair it with heels and statement accessories for an evening event, or opt for a more laid-back look with boots or flats for daytime.
Check out our daily videos on facebook.