Description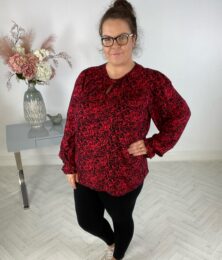 Details: plus size clothing
Only Carmakoma Red & Black Graphic Blouse
long sleeves
keyhole neck detail with button
a-line fit
elastic cuffs with frill
100% viscose
shop leggings (click here)
Style no: 15311727
Further information:
The red and black long-sleeve blouse, crafted from 100% viscose, is a striking and versatile piece that seamlessly merges style and comfort. The use of viscose, a plant-derived fabric known for its silky feel and breathable nature, adds a luxurious touch to the garment, making it an ideal choice for various occasions.
The blouse features a captivating colour combination of red and black, creating a bold and eye-catching aesthetic. The deep, rich red tone injects a sense of vibrancy and energy into the garment, while the black elements add a touch of sophistication and contrast. This color pairing is not only visually appealing but also versatile, allowing the blouse to transition seamlessly from day to night.
The long sleeves of the blouse provide both coverage and a sense of refinement. The sleeves are designed with careful attention to detail, allowing for a comfortable fit that doesn't compromise on style. Whether worn casually or dressed up for a more formal setting, the long sleeves add an element of grace and elegance.
The 100% viscose fabric enhances the overall wearing experience. Viscose, often referred to as "artificial silk," drapes beautifully, creating a flattering silhouette. Its lightweight and breathable nature make it well-suited for various weather conditions, ensuring the wearer feels comfortable and at ease throughout the day.
The silhouette of the blouse is thoughtfully designed to be both timeless and contemporary. The red and black hues are strategically placed to enhance the natural lines of the body, creating a flattering and feminine look. The blouse's length is carefully considered, allowing it to be effortlessly paired with both trousers and leggings for a polished ensemble.
Whether you're attending a professional meeting or a social gathering, this red and black viscose blouse is a statement piece that effortlessly captures attention. Its combination of colour, fabric, and design elements makes it a wardrobe essential for those who appreciate the fusion of style and comfort in their attire.
Check out our daily videos on facebook.