Description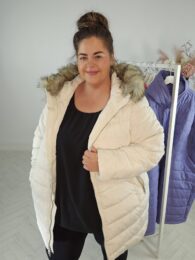 Details: plus size clothing
Only Carmakoma Quilted Fur Trim Hooded Coat
Short Coat
Fur trim Hood
Long sleeves
Regular fit
100% Recycled Polyester
Shop coats (click here)
Style No: 15295059
Further information:
The women's faux fur trim hood quilted jacket is the epitome of style and warmth for the modern woman during the cold season. This exquisite piece of outerwear seamlessly combines fashion and function, ensuring you stay both cozy and chic as you brave the winter elements.
The defining feature of this jacket is its sumptuous faux fur-trimmed hood. The lush fur adds an air of opulence while serving as a practical barrier against cold winds and rain. It frames the face elegantly, offering not only insulation but also a touch of sophistication to any outfit.
The body of the jacket boasts intricate quilted patterns that are both aesthetically pleasing and highly functional. The quilting not only adds depth and texture to the jacket but also evenly distributes the insulation, creating a cozy cocoon of warmth. It prevents cold spots, ensuring you remain comfortable even in the harshest of weather conditions.
Crafted from top-quality materials, this jacket often features a water-resistant or waterproof exterior to keep you dry when the weather turns wet. A durable front zipper, coupled with additional snap or button closures, offers extra protection against the cold and adds to the jacket's overall style.
The faux fur trim is a testament to luxury and attention to detail. It lines the hood and sometimes extends to the jacket's cuffs and hem, providing extra warmth and a glamorous touch. The faux fur is designed to resemble real fur closely, offering a cruelty-free and sustainable alternative.
Beyond its functional features, this jacket is highly versatile. It effortlessly elevates any outfit, whether you're headed to the office, meeting friends for a casual outing, or attending a special evening event. The faux fur trim adds a touch of sophistication, making it a statement piece in your wardrobe.
Check out or daily videos on facebook (click here)