Description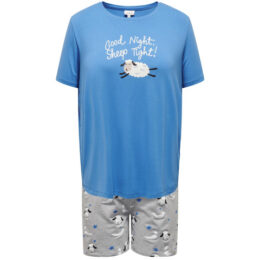 Details: christmas pajamas
Only Carmakoma Pajama Set
shorts
short sleeve top
blue and grey
95% Organic Cotton, 5% Elastane
shop more Christmas items (click here)
Style no: 15304058
Further information:
The blue and grey shorts pajama set, adorned with a charming sheep graphic, embodies a delightful blend of comfort and whimsical design. Crafted from premium, lightweight fabric, this set offers an ideal balance between breathability and snugness, ensuring a restful night's sleep or a leisurely lounging experience on warm evening at home by the fire.
The serene blue and soothing grey tones of the pajama set create a tranquil and calming aesthetic, promoting a sense of relaxation and tranquility. The delicate interplay between the two colors lends an understated elegance to the ensemble, while allowing the adorable sheep graphic to take center stage. The sheep, depicted with endearing simplicity, showcases a soft, sleepy expression, evoking feelings of warmth and contentment.
The meticulous detailing of the sheep graphic, from the intricate portrayal of its curly fleece to the subtle depiction of its peaceful sleep, reflects a dedication to capturing the essence of coziness and comfort. The careful combination of blue and grey hues in the sheep's design enhances the overall harmony of the ensemble, creating a visual narrative that resonates with a sense of serenity and peacefulness.
The shorts, designed with a relaxed and airy fit, promote unrestricted movement and breathability, making them an ideal choice for warmer nights or relaxed lounging during the day. The elastic waistband gently conforms to the body, ensuring a comfortable and personalized fit that allows for ease of movement and maximum comfort.
In essence, the blue and grey shorts pajama set with a sheep graphic is not just an item of clothing; it is an embodiment of tranquility and comfort, encapsulating the soothing embrace of a peaceful night's rest or a leisurely day spent unwinding. With its charming design and emphasis on comfort, this pajama set serves as a gentle reminder to embrace moments of relaxation and serenity in the midst of life's bustling activities.
Check out our daily videos on facebook.